Striving for leadership in fire safety and quality is one goal, another one is ecological leadership. This applies to our whole range of products. Our products and production processes as well as the practical application methods must not only be safe for the applicators and our employees but must also be harmless to the environment.
Toxicology and Occupational Health
Besides striving for the best in fire safety and high quality standard we have another important objective:
To install only such products containing no toxic or harmful components and developing no toxic or harmful substances in fire. This means every product has been evaluated in respect of its toxicological respect. If there is the smallest suspicion that a chemical is carcinogenic, mutagenic or toxic it is not used.
All our products are also asbestos free.
Occupational health is a major requirement worldwide. During application of all Pyro-Cote's recommended products one can be sure that one's work force is absolutely safe. With nearly 30 years' experience in the application of passive fire protection products there has never been an incident where the products have resulted in any form of health incident.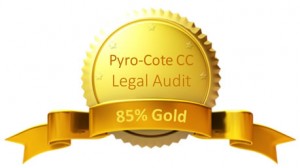 As part of our companies commitment to safety we are very pleased to announce that we achieved GOLD for our recent Legal Safety Audit.
At Pyro-Cote (Pty) Ltd we are not only committed to installing high quality products that have been officially tested to meet the requirements of building occupancy safety but also that of our employees.
Pyro-Heath is a registered in-house Occupation division the provides Occupational health and Safety to the group. The occupation clinic provides staff wellness , medicals the team also is responsible for the Occupation Health and safety on and off site.
It is headed by a registered Nursing sister and a qualified Safety officer.
All the services offer is also available to outside contractors on a consulting basis .
Contact: Sr Wolf 0766895510
Email: sally@pyrocote.co.za