Stopping Seals

There is no doubt that fire risks in modern society have grown in many respects. Fires – and in this the experts are unanimous- are today no longer a calculable risk. The Pyro-Cote Fire Protection stopping seals system is known today Nationwide.
It comprises a series of products providing the most effective means to achieve fire resistant building elements and compartmentation- the mandatory requirement in all up-to-date building codes and fire insurance regulations to prevent a fire from leaving its original location.
The Pyro-Cote Fire Protection system furnish a huge range of materials for every conceivable application. Since 1986 we have been developing concepts and systems for passive fire protection. With our comprehensive fire protection systems we cannot prevent all fires. But we can make life much safer. One of the most well-known of the Pyro-Cote fire protection product ranges is the KBS System Products.
These products have not only been tested by the SABS to meet the requirements of the National Building Regulation 0400 but also to international standards such as DIN EN ISO 9001 and DIN EN ISO 14001.
To keep a fire restricted to its source in open structures such as large manufacturing facilities, power plants etc., the Pyro-Cote Fire Protection system offers KBS® Coating and Pyrosafe WB for the fire protection of electrical cables, an effective means of prohibiting flame propagation along cable ways.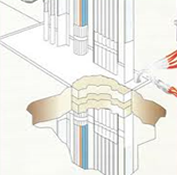 Consisting of mineral wool panels and KBS® Coating, is totally resistant to water and humidity, has an excellent chemical an mechanical resistance. Is preferably used in heavy duty industrial applications. KBS panel seals not only are fire resistant but also provide a gas and smoke tight seal. Fire tests have been completed locally and internationally.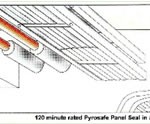 Consisting of mineral wool panels and Pyrosafe WB ,was especially developed for the fire protection in standard applications with lower technical requirements like office buildings. Offically tested by the SABS and rated for 120 minutes.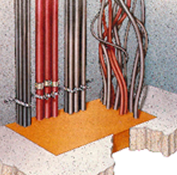 A light weight mortar of low compressive strength. It expands while setting, guaranteeing a smoke tight seal without cracks. Easy to retrofit and preferably used in large openings especially with complex cable installations.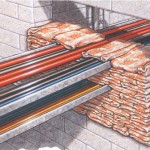 Special "fire pillows" preferably used for penetrations where subsequent changes and retrofitting are expected. It is a seal most easy top install. These bags, made of high –grade fire glass with a combination of fillers, expand under heat exposure up to 45 % and then harden into a hose-stream resistant solid block.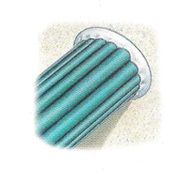 For an economical fire sealing solution for plastic pipes up to 110mm dia. An intumescent sealant for the fire protection of cables, metal and plastic pipes, especially for penetrations in small core drill holes or in KBS® Panel Seal INT.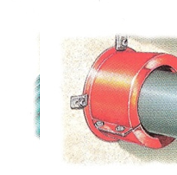 Have a chemically reacting as well as mechanical strangling device in a steel casing to seal plastic pipes in wall or ceiling penetrations. They are the only pipe seal devices rated for pipes up to 500 mm! The KBS® Pipe Seal system also accommodates diagonal penetration pipes at various angles, pipes with 90° bends close to wall or ceiling as well as bundles of pipes in one seal.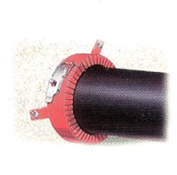 Fire protection for combustible pipes in wall and ceiling penetrations. Act purely by intumescence. Small sized steel casings with snap lock. Easy and quick to install for plastic pipes up to 250 mm diameter.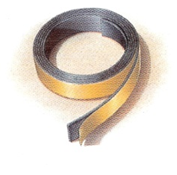 A highly flexible intumescent wrap for recessed installation in walls and floors to protect plastic pipes up to 160 mm diameter. Steel pipes up to 160 mm with combustible insulation could be sealed as well.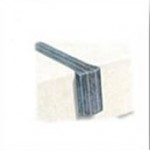 A permanently elastic fire protective sealing system for all kinds of wall connection and expansion joints- has been developed providing up to 4 hours fire resistance for joint widths up to 100 mm.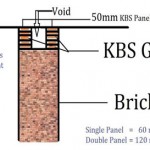 For sealing between wall and soffit- KBS Gap seals allows 7 % movement of the gap.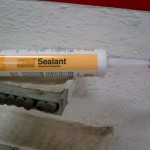 An ablative sealant for the fire protection of cables and metal pipes, especially for penetrations in small core drill holes or in KBS® Panel Seal ABL.